I have a confession to make, dear readers...
I've been skiing...a whole lot lately, actually. Yes, me, notorious "indoor girl", lover of libraries, museums and the like, has been skiing. The first time I went, a few days before Christmas, it was sort of on a lost bet with my sister-in-law. I'm sure it was pretty funny to watch at first, that loud, clumsy American girl slipping around with skis strapped to her feet for the first time in her life...especially when falling down right next to a couple of Weegies, notorious for being "born with skis on their feet".
Now though?
I'm actually pretty decent at it.
It's weird, and my MIL comments to everyone that I have a natural talent on skis. I really enjoy it actually, and now I find myself begging Harald to come out after dinner with his sister and I to glide through the lit, wooded trails across the street...
I would have never thought, in a million years mind you, that I would be caught dead voluntarily on skis, but it actually happened. We've been cross-country style skiing, and the trails have lots of rolling hills as well, which is most definitely my favorite part. I still have yet to master a sharp turn or quick stop, but I love flying down those hills in the deep, quiet forest.
My Mom, on the phone last night told me the Weegies must really be converting me...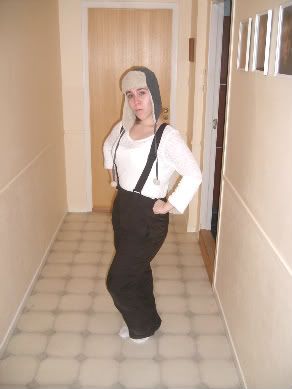 How sexy is this outfit? rawr. Makeup-less and directly following a 2-hour skiing trip, ouch...but you know you're jealous of my lumberjack hat.
It's been snowing today since eleven this morning. The perfect snow; big, misshapen flakes floating lazily, like they have all the time in the world to spare on their way down. Dream snow. And also, just enough to put a fresh layer of powder on the trails through the woods...just enough for another night of skiing.
My Mother just might have been right about something: the Weegies, are definitely starting to get to me...
WIR update:
I'm about halfway through Annie Proulx's
Accordion Crimes
. I had read her infamous
Brokeback Mountain
short story in college for a course I took, and stumbled through a few more of her shorter pieces shortly thereafter. Her writing style is gritty, and very crisp. I can't decide if she is an author that agonizes over the structure of every word in her sentence, or just slaps them onto the page in their raw form...either way, they are all very complete and fitting. Her writing gives the reader a sense of a real no-nonsense personality and voice. The story is decent, technically-speaking quite well done, but not entirely overwhelmingly amazing so far. It follows the creation and life of an accordion, and all it's owners throughout an odd century or so in time. My first book of 2010, and I hope to be finished in the next day or so...
p.s. - How did you all like my header banner I made? It's my first attempt at doing so, and I'm fairly pleased with the results. I'm still not sure why it makes the entire page view askew, but still, I like the looks of it. Fresh start, brand new photo for 2010...the photo, by the way is one I took in our front yard on New Year's Eve while all the fireworks were going off. I though it fitting for a January photo...