Today, on a fabulous note, was a great day.
Why, you might wonder, well, I shall tell you....
First and foremost, the other day a package from my Mom finally got here that had, among other things my student loan rebate check. A concept which I'm sure many of you are familiar with. This, tends to be a time when people are super happy, and do impulsive fabulous things like buy new computers they've always wanted, and work on tattoo projects...well, in my circle of folks anyway.
So today the Hubs and I headed downtown to the Postbanken and opened my very own, first Norwegian bank account. Hey, might not sound like much, but it was kind of a moment for me, taking the horrible photo that is on all bank cards, getting my account number...all that bank-y stuff. I'll have my very own, chip-ridden Weegie bank card in a couple weeks.
After that, I will (like my peers I mentioned)
finally
be able to order my new computer. I got rid of my dear old blue computer right before we left the states as it was literally in the twilight of its sixth year of use.
Yes, I said six. I was using a six year old laptop. And had been, for six years straight.
At least I don't love em' and leave em'!
So I figure I'm due for a new laptop, and I've got my eye on a
real beauty
. The plan is, once I have my brand spanking new bank card, with cushy rebate check situated therein, I will order this gorgeous item, have it shipped safely to my Mom's house, then she will ship it to me. Downside =
waiting
for all the shipping business and bank-y stuff. Even with shipping and waiting times, it will still be amazingly cheaper to order it from Sony.com instead of Sony.no, hence the madness. So it might be a month or so more of sharing computers with the Hubs...but when that pink lady shows up on my doorstep: totally worth it.
Anyway, other than bank and computer-fun, and next in the day's events, I somehow persuaded Harald to walk a block up then over from the bank branch to the Haugesund library, where I got, drumroll please...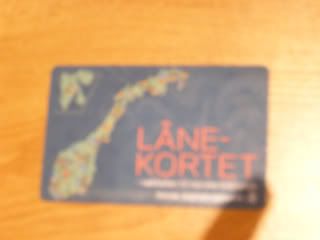 That's right folks, my very own Weegie library card! (Not as blurry in person, I promise. Just hard to get a picture of!) Neat thing: this card can be used in libraries all over the country, including university library collections!
Hey, for a bookworm like me, this is exciting business.
More exciting though, than such a versatile, functional library card that's all mine? The English language section at the Haugesund branch. I admit, I was impressed. Their collection of English language pieces is at least a few hundred strong, and unlike the selection of all the local bookstores, is not limited to Dan Brown, Tom Clancy, Charlaine Harris, and the literary vomit that is the work of Stephanie Meyer.
So now, since I can supplement with library books(and you know I already did!), I'm not
as
worried about my reading collection dwindling into nothing and my resolution falling to the wayside...
Also, my favorite Auntie in the world has agreed to let me buy some books online, and have them shipped to her house (probably in about six or so at a time), then ship them to me...hey, this back and forth shipping might sound like madness to some of you, but for real, Norway is
that
expensive...that, and I'm
that
frugal, always have been! When you're only paying three dollars for a really nice hardcover edition of a book, used from Amazon.com and similar places, it's worth it!
So after our library outing, we stopped to pick up a few essentials at one of the local shopping centers, then booked it home, where I was on dinner duty (as I often am)...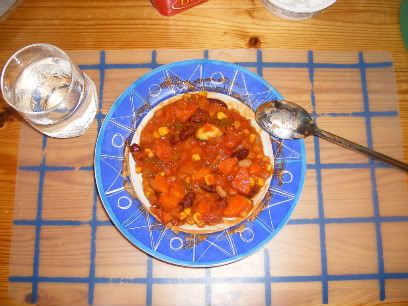 Vegan chili, made by yours truly along with some baked-from-scratch cornbread. Yum Yum.
Really, not to brag or anything, but this was some damn fine chili! No meat needed when you have beans, carrots, zucchini, corn, onions, garlic and chilies! My menu for tomorrow: my Mom's lemon chicken recipe with stir-fry veggies and rice on the side (you can guess which 2/3 of that I personally will be consuming.)
Now, on to homework, and newly arrived library books. (They are on my
shelfari.com
shelf now in case anyone is interested.) Just enjoying some quiet while Harald is out having a few beers with the boys, trying to wade my ever-present bog-o-homework. boo.
p.s. - I even scooped up the only book in English on the library book sale shelf while we were on our way to the front desk: a immaculate hardcover copy of The Collected Stories of W. Somerset Maugham, for only 10 kroner! Folks, that's like less than $2.00, can't beat that anywhere!